Spanning across a number of industries, over the past fifteen years I've worked on numerous projects in the mobile & tablet, website, wearable device and game console spaces. Below are some of the clients I've had the pleasure of working with over the years.

Scroll down to learn more about the different services I provide.
Copyright © 2016. Jeremy D. Thomson. All rights reserved.
✉ solutions@jeremydthomson.com
Whether for Web, Mobile, PC or game console I have extensive experiencing in conducting Heuristic Evaluations for a variety of clients.

Recognizing and establishing client goals, analyzing current products and providing easy-to-understand, prioritized UX recommendations are all part of the reports I produce.

I also have experience creating competitive evaluationsーwhether that means focusing on a few specific companies or performing an analysis of dozens of apps in the mobile space.

Clients served include: Microsoft, Blizzard, Robert Half.
HEURISTIC EVALUATIONS & COMPETITIVE ANALYSIS
From User Personas and Feature Briefs to Site Maps, Customer Journeys and Wireframes (low to high fidelity), I am efficient at producing high quality UX Design Documentation.

Clients served include:
Amazon, Microsoft, Electronic Arts.
From the reinvention of an existing app to the creation of something completely new, I thrive in the mobile space (both in terms of apps and game development).

Typically starting with competitive analysis of like apps,
I amalgamate user requests and business needs, and from a combined assessment of those determine feature sets.

I then create user flows, sitemaps and wireframes, with careful consideration for device fragmentation and mobile OS-specific interfaces.

From beginning to end I help ensure that UX is part of the development process so that customers receive the best handheld experience possible.

Clients served include: Microsoft, Electronic Arts.
An essential part of the UX Design process, I'm a strong believer in the axiom, test early, test often.
Including both internal and external testing, I have experience driving and mentoring the complete test process. This includes candidate filtering, script and test creation, execution of the test to reduce bias & gather the best feedback possible, and reporting and follow-up.

Tests that I have conducted include one-on-one and group testing, journal studies, card sorting and A/B Testing.

Clients served include: Century 21, Electronic Arts, Usability Counts.
In addition to the above I specialize in the following:
Starting my career as Web Designer, I continue to study and build websites:
Webydo, Wordpress, Shopify, Vignette and customized HTML/CSS.
An important part of UX Design, I help improve existing interfaces as well as create new ones to meet the goals of clients and customers.
Whether paper or HTML/Flash
based, I am a strong believer in prototyping
as an important part of the UX Design Process.

Clients served include:
Robert Half, Electronic Arts, Amazon.
The most important role a UX Designer performs is to empower others and drive cultural change using mentoring and education.

Whether it be through one-on-one or group discussions, lunch-and-learns, presentations, workshops or even conferences, championing a thorough understanding of user experience and promoting positive change is a huge part of what I do.

My experience includes having organized Fortune 500's first Global UX Conference, working with Gurus such as Bruce Tognazzini, speaking and presenting to groups with different levels of UX understanding, and UX blogging.


Clients served: Ongoing education has been, and continues to be an integral part of what I do with every client I work with.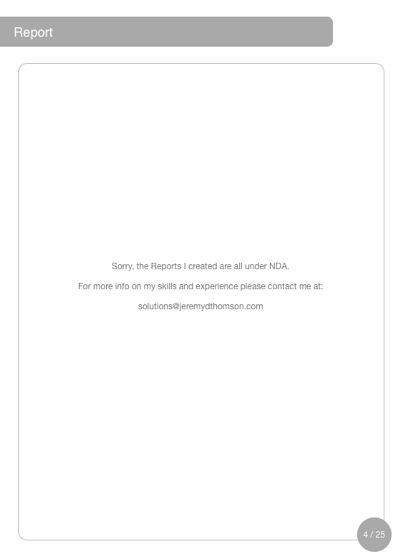 Developed over the course of three years and incorporating theories from UX Gurus and Academics alike, I bring with me a unique set of UX evaluation tools.